Posted by Adam Devine, CEO on Jul 17th 2020
Naysayers abound, but I insist the Honda NC750x and NC700x are up for real adventure. These bikes can be more than just mild mannered commuters. Like most machines in this segment, some kitting is required to take an NC into the wild, but then, no one attempts to run the Rubicon Trail with a base model Jeep either. Like the Jeep though, the little Honda has a foundation that gives it an off-road advantage over its competitors.
The NC's X factor is its incredibly low center of gravity. No other bike in the category comes close to managing its weight in the same trials-like fashion, and since many ADV bikes are even heavier than the NC, this advantage can't be overstated. Another distinct advantage seems like a disadvantage on paper: that mild, low revving motor is a forgiving off-road friend that will see you through the slow, rough stuff, no fancy electronics necessary.
With these attractive fundamentals in mind, the ADV enthusiasts here at Ranger Point Precision (RPP) embarked on a project to prove that the Honda NC700x and NC750x could survive and even thrive alongside their more pedigreed brother, the Honda Africa Twin. The AT is an exceptionally capable dual sport, and I am not claiming the NC can be turned into one, only that it can hold its own in most adventure scenarios. For some, there are a few thousand ($$$) reasons to consider the less expensive NC, but even if budget is not a factor, the smaller bike might still be more appealing for its lower weight and Labrador approachability. Oh, and that "frunk"!
Our project was ambitious, involving months of intensive development and testing. It included sourcing both off-the shelf products, and by necessity, designing an entirely new front end suspension kit. In the end, we believe we met our ultimate goal: finding an affordable and effective way for Honda NC owners to kit out their NC's for better confidence, comfort, control, and contact both on the road and off.
A walk-around of the NC750x and NC700x reveals some necessary upgrades. We found some of what we needed on the shelf, choosing pairs of Continental TKC 80s and Shinko 805s for our two test bikes. We added Pro Taper Evo Series Adventure High handlebars for extra height and crash resistance. We also found a modest gearing reduction advantageous, courtesy of Superlite Sprockets. Another smart and inexpensive piece of kit was found on Amazon: a kickstand extension pad to keep parked bikes from sinking and toppling on soft terrain.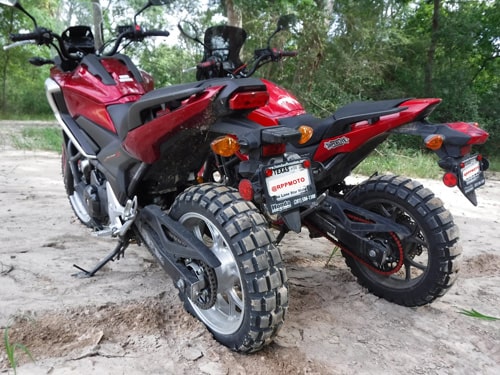 Honda NC750x and NC700x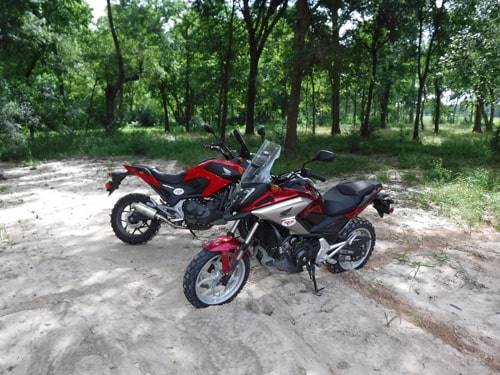 Honda NC750x and NC700x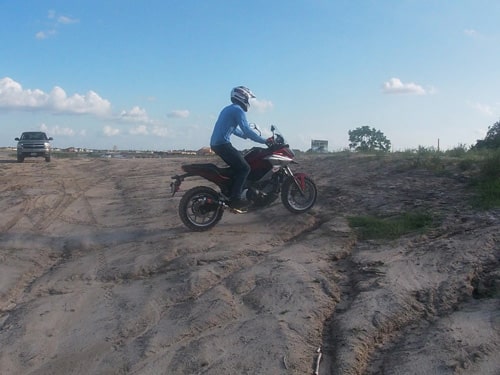 Honda NC700x standing up on wdier foot pegs
Those little rubber covered footpegs gave us heartburn off road, traction dipping near zero when wet or muddy. Failing to find what we wanted in the pantry, RPP developed its own excellent ADV foot pegs for the NC, with enough teeth to offer positive grip all the time, but not tear up your soles.
Once in the saddle, any rider with a frame of reference will note the exceptionally quick steering of the Honda NC's. They're borderline flighty in my estimation, and unfortunately feedback from the front end is vague. The Honda's forward weight bias is partially responsible for its quick steering, and is anathema to off-roading. The vague front end is a result of overly soft fork springs and poor damping.
If you do nothing else to your NC-X, balance the chassis and upgrade your front forks. Doing so will transform your ride, making the bike far more comfortable and confidence inspiring, both on and off road. We burned the R&D budget improving the conventional damping rod forks, and you can reap the rewards of our efforts. The RPP Moto C4 Damping Rod Fork Suspension Upgrade Kit will get the forks working like modern cartridges, adds 1" of travel/ground clearance, and addresses the weight bias problem, all at once. This is a hugely important step in the transformation from commuter to ADV.
Suspension Upgrade Kit Video https://youtu.be/6eaJxBQm_iE
As our project progressed, we put our two test bikes, a NC700x and a NC750x, through some rigorous testing. We went from paved and gravel roads to rough trails, and finally, a motocross course. The machines handled everything with surprising ease, including modest jumps. I rode my NC750x back to back with my Africa Twin, and while there is no question the AT can soak up more punishment, there is also no doubt that off road, the bigger Twin favors the skilled and confident rider. The NC invited even our novice testers to dare greater things.
Crash protection is worth consideration, but there is a cost in dollars and pounds, so if a broken part won't leave you stranded, then don't sweat it. By way of watching our novice tester, I've learned that the NC survives tipovers well. Vitals generally do not protrude enough to take the brunt of a fall. The NC does have a soft underbelly however. If you expect to encounter rocky areas, a skid plate would be a wise investment, as a busted sump pan will end your ride.
Power is not the strong suit of the uber efficient NC. Off road, it has more than enough, but on the street it can feel a bit sleepy. There are plenty of exhaust choices to uncork the motor. But before you go breaking the bank on a pipe, here are a couple things to consider.
A free flowing muffler can change the voice of the NC from meek to audacious. Our test bikes have a bassy, V-twin boom that tickles the cockles and turns heads. But a muffler alone will not bring an appreciable power increase. With a full de-cat system and EFI tuner you stand to pick up several horsepower, which makes the NC feel pretty lively. The last ponies to arrive are always the fun-loving party animals. Just remember that EFI tuning is a must for full systems.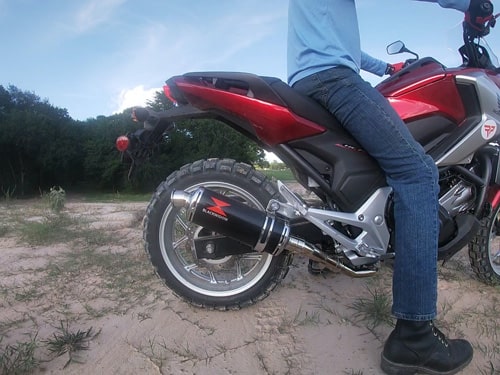 The NC750x with a new Blackwidow muffler
Remember too that ponies must be fed. More power consumes more gasoline, and you will be shaving miles off your range. If you foresee long stretches between filling stations, you may have to leave some horses in the barn.
The Honda NC750x has been, for me, a bike full of surprises. First, it surprised me with how well it carries its weight. It's hard to get your head around. Then, once kitted, the X bike surprised me with its off road alacrity. Its trustworthy street manners seem magnified in the dirt, encouraging adventure where some bikes instill doubt and fear. Its voice, with an aftermarket exhaust, surprised the hell out of me--and everyone else. Mostly, I'm surprised at how much I enjoy my Baby Africa Twin. Even when big brother is right there, beckoning with its burly motor, sometimes I just say, "frunk it," and take the NC.
Author: Adam Devine
Adam is the CEO of Ranger Point Precision LLC and has been designing and manufacturing parts since 2012. He has 30+ years of riding experience, having ridden over half a million miles, including a three month long cross country road trip. He currently owns a Honda CRF1000 Africa Twin, Honda C750X, Honda CBR650F, Honda 750 Nighthawk. His new RPP Moto product division draws deeply from his background as a product designer, an avid motorcyclist with a passion for adventure, and a former top SF Bay Area motorcycle mechanic with expertise in suspension. Learn more at https://www.rppmoto.com

Frequently Asked Questions
How much horsepower does a NC750X have?
The Honda NC750X has a claimed peak horsepower rating of 54 horsepower. This is quite modest for a motorcycle in this class, but it's still more than enough power to provide a fun and exciting riding experience. Plus, the low weight of the bike (just 414 pounds) makes it easy to handle and navigate even in tight spaces.
What is the top speed of a Honda NC750X?
According to Honda, the top speed of a NC750X is approximately 85 mph. This speed is attained by revving the engine to redline in each gear and then shifting into the next gear. However, some riders have reported reaching speeds up to 100 mph on flat terrain. There are many factors that can affect a motorcycle's top speed, such as wind resistance, terrain, and rider weight.
How heavy is a Honda NC750X?
According to Honda's official website, the Honda NC750X weighs 172kg. However, this is the weight of the motorcycle without any fluids or further accessories. When fully fuelled and ready to ride, the NC750X has a wet weight of 210kg.