Posted by RPP on Dec 12th 2020
Henry Rifles: Made In America, For America
"Made in America, or not made at all."
The Henry rifles are well-loved by gun enthusiasts and known as the fore-runner to the Winchester rifles. Whether buying for the classic look or for tactical arms design, these rifles have developed a following due to the Henry Repeating Arms motto "Made in America, or not made at all."
Add in that the company runs a Guns For Great Causes program providing charity for various recipients important to gun owners, the Henry rifle has become a symbol of American quality and family. This is a gun made in America, for America.
Abe Lincoln's Famous Henry Rifle
The most famous Henry rifle is the gold-mounted, engraved rifle presented to President Abraham Lincoln in an effort to obtain his influence in purchasing the rifles for the war effort. It is currently on display at the National Museum of American History's Kenneth E. Behring Center as part of "Abraham Lincoln: An Extraordinary Life" exhibit.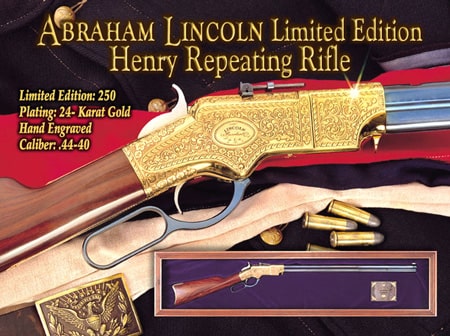 A number of Henry rifles were purchased for the war effort and gained popularity with both soldiers and civilians. One Confederate officer is credited with the phrase, "It's a rifle that you could load on Sunday and shoot all week long."
Although the Henry rifle made a great influence during the war, it did not become the dominant firearm for the western frontier. It still made a significant contribution and became a popular favorite that lasts through today.
More Releases From Henry Repeating Arms
Recently, the American gunmaker Henry Repeating Arms has announced that they are replacing all steel-framed centerfire lever-action rifles and shotguns to include a side loading gate while still retaining the removable tube magazine based on the original Henry rifle patented in 1860. This is sure to please many lever gun enthusiasts.
Your Firearms Parts Made in America
At Ranger Point Precision, we share your dedication to the iconic American made firearms and we devote our efforts to helping you personalize your rifles with only American made parts.
Our firearms parts are created right here in Texas, USA by a dedicated team of engineers, designers, and gunsmiths. We're committed to providing you with the highest quality firearms parts that you can count on backed by excellent customer service.
BUY HENRY REPEATING ARMS PERFORMANCE PARTS
Frequently Asked Questions
What is the most popular Henry repeating rifle?
Lever Classic, Golden Boy and Big Boy X are some of the most popular Henry repeating rifles.
What is the rarest Henry rifle?
The Iron Frames is one of the rarest Henry rifles.
How many rounds does a Henry repeating rifle hold?
The Henry repeating rifle is a 15-round rifle.