Posted by Ranger Point Precision on Feb 21st 2017
After months of in-house design work, Ranger Point is introducing it's innovative, one of a kind family of front and rear rifle sights.

Ranger Point Front & Rear Sights Calculating Specifications Guide
Wide, Open Sight View in Full Light or Low Light (plus Night Sight Options)
Most 3/8" dovetail rear sights have been a compromise between large, open apertures, which afford good light throughput at the cost of precision, or smaller "peep" apertures which afford better precision at the cost of poor light throughput. Both the RHINO Rail Integrated Rear Sight and the Ranger Point 3/8" .375 Dovetail Universal Rear Sight remedy both these issues resulting in faster and more accurate target acquisition.
Primary and Secondary Aim Targets "On the Fly"
Traditionally, most non-glass aiming devices - commonly referred to as iron sights - have only afforded one aiming point, with no provision for secondary aiming points "on the fly" for shooting at greater distances ( how to set a primary and secondary aim point).
Night Sight Options - Neon Green Glow Substantially Brighter than Tritium or Fiber Optics
Upgrade to the Night Sight option and the front sight triangle and rear sight reticle bars will come with baked in neon green glow paint (shows white during day). Easily charge with a flashlight for a few seconds and the sights glow brightly and are visible during the day or night.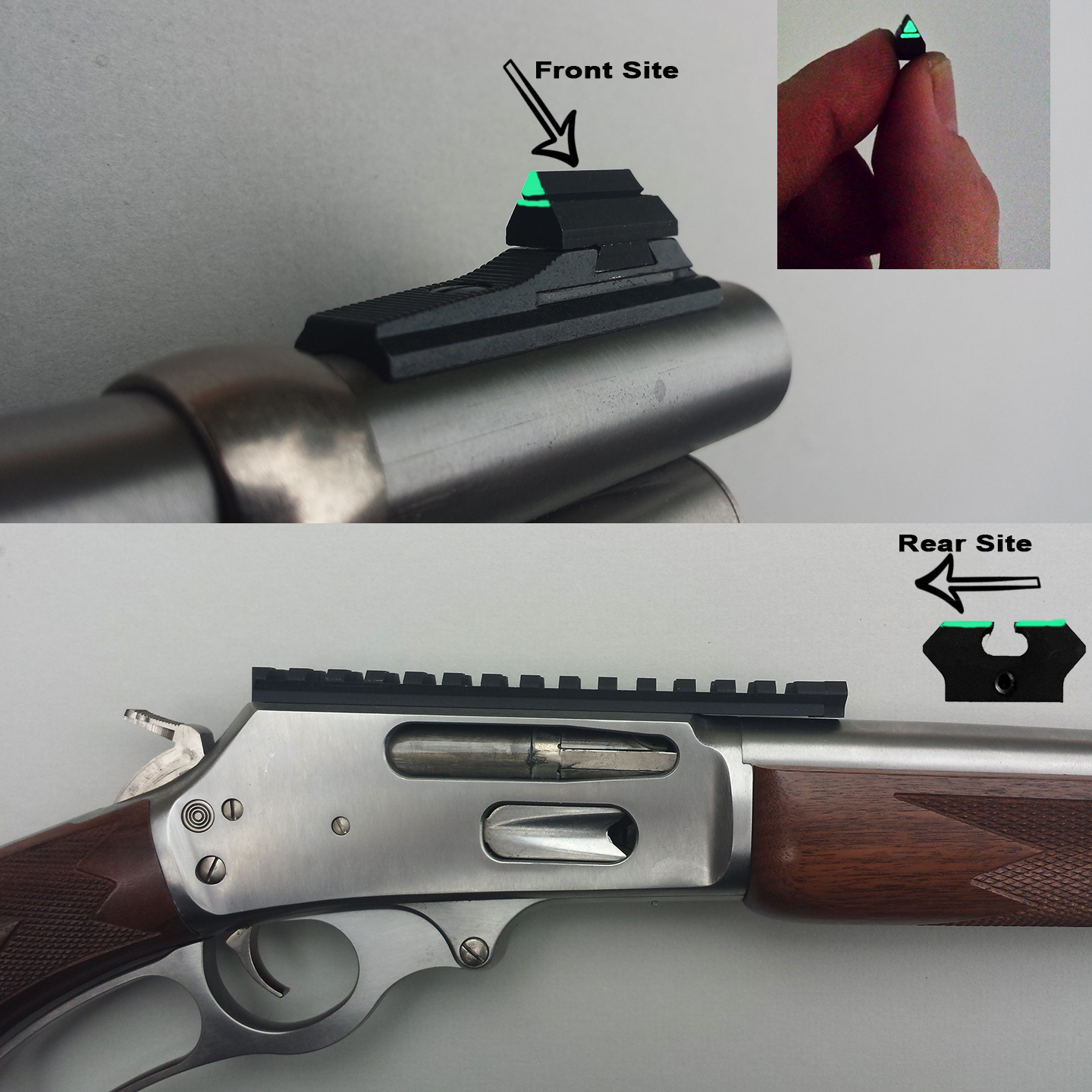 Hand Slip In Sights - No Hammers or Punches Needed
No more driving or hammering an open sight into a sight ramp or the dovetail of the rifle. It simply slides into the dovetail slot in the barrel with finger tip pressure. As you tighten the locking screw it snugs the dovetail on the rifle barrel and locks the sight in place ( for "loose slip in" front sights, recommend one drop purple loctite).Note: Dovetail cuts vary in tolerance and there may be some instances when our sights are not a "slip fit" but have to be tapped in or fitted.
Ranger Point 3/8" Dovetail Triangular Front Sights
- Come in five heights including .235", .300", .365", .410" and .535" and are .25" wide.
- Standard 3/8" dovetail fits in barrel dovetail or into rifle's factory ramp with one set screw ("loose slip sight," recommend one drop of purple loctite)
- Triangular front sight shape with a) orange for day or b) white / neon green for night allows for easy target acquisition
- Windage adjustable side-to-side with set screw (no need for punches or hammers)
- Horizontal elevation notches for "secondary aim" on the fly shooting from 100 yds to 200, 300...
- CNC machined from 7075 aluminum and anodized black (Lightweight, high strength, rust proof)
- Calculate which size front sight you need
Ranger Point Universal 3/8" Dovetail Rear Sights
-Comes in one size 1/2" width x .340" to .450" height (set screw adjustable elevation) x 3.4" length
- Fits standard 3/8" dovetail
- The brightest, clearest sight picture with a wide oval shaped aperture for good light throughput and scope-like view "reticle" bars" to align with your front sight
- Elevation adjustable using the set screw from .340" to .450" height
- CNC machined from 7075 aluminum and anodized black (Lightweight, high strength, rust proof)
Come in two types:
- Integrated Backup Rear Sight flush mounts onto the front of a RHINO scope mount rail for Marlin Firearms and Henry Repeating Arms rifles (won't get in the way of a mounted scope)
- Universal 3/8" Dovetail Rear Sight (fits all rifles with standard 3/8" .375 rear dovetail on the barrel or sight ramp)
Patent Pending Front / Rear Sight System
Our front and rear sights work great! Pair our front / rear sights together and the complete sighting system totally blows away the competition.
Find out more and order your set today at
http://rangerpointstore.com/categories/rifle-front...
Read what some of our product testers had to say about the sights
http://www.marlinowners.com/forum/ranger-point-pre...